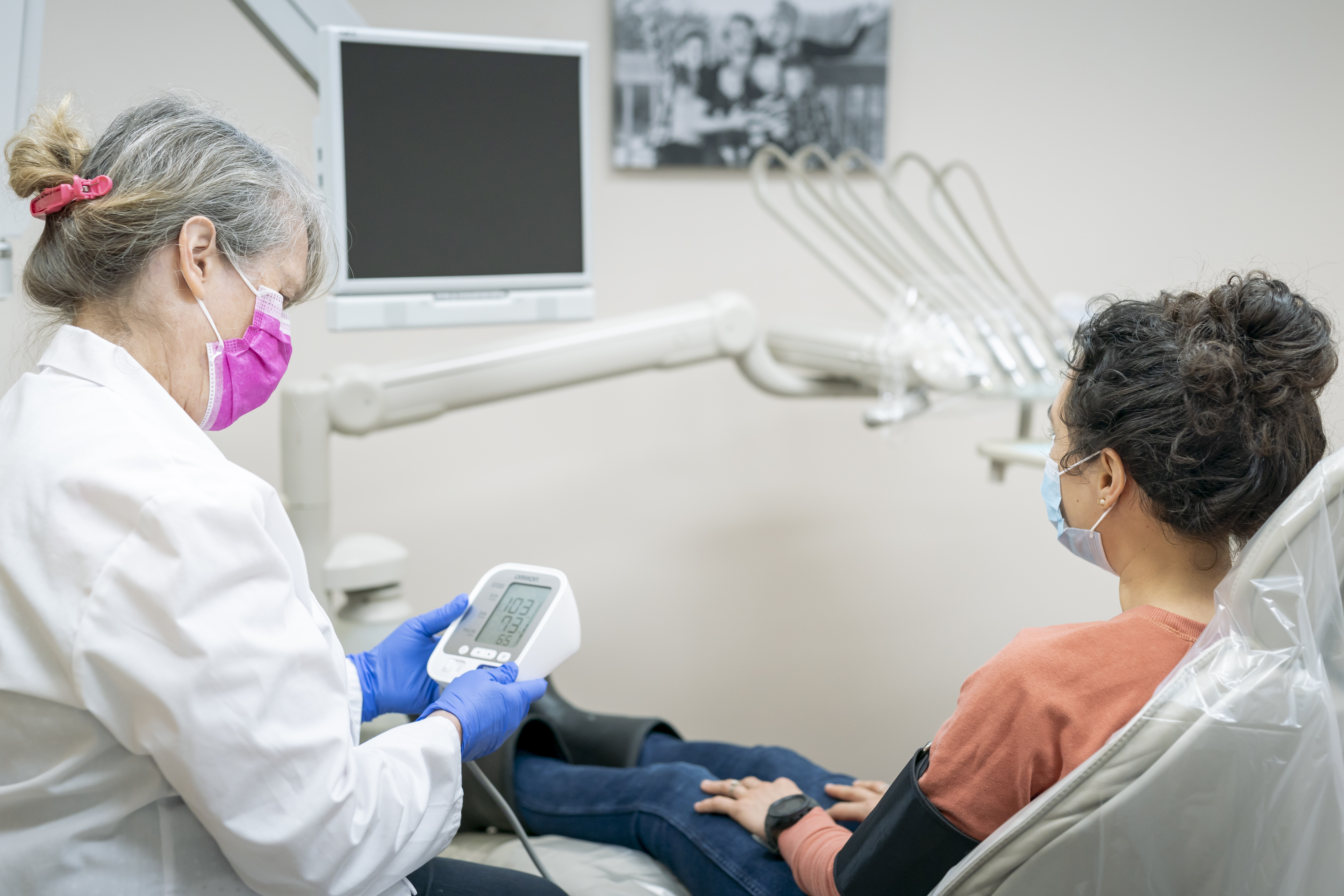 If you're only getting a cleaning or having a cavity filled, you might wonder why your dentist is checking your blood pressure first. Actually, this check is now a routine procedure and standard of care for many dentists. But why are more and more top dentists doing it?
Dentists who measure this important vital sign are doing so out of the utmost professional care for your health, not only during your dental visit, but for your overall well being.
Stress
According to The American Dental Association, blood pressure is "an important screening vital sign at dental visits."
When you think about it, seeing the dentist and getting a treatment, even a regular teeth cleaning, can be stressful for patients. If a patient's blood pressure is already high, going forward with a dental treatment can exacerbate the situation and wind up causing dangerously high blood pressure.
Second, the local anesthetic dentists use contains epinephrine, which constricts blood vessels and can cause blood pressure to rise even higher, she added.
Anesthetic
Usually, the local anesthetic dentists use causes no concerns. However, this anesthetic contains epinephrine, which constricts blood vessels. If you already have high blood pressure, your normally worry-free anesthetic could cause your blood pressure to rise even higher. This could lead to a dangerous situation for your health.
The first line of defense
Most people go to the dentist twice a year for cleanings, while they go to a general doctor once a year or less. This makes your dentist visit an extra opportunity to screen for high blood pressure. High blood pressure is known as the "silent killer" in the US, because it affects about 100 million U.S. adults and often produces no symptoms.
With a more regular blood pressure screening provided, your visits to the dentist become the first line of defense against this condition.
Dr. John Rink--a dentist who truly cares
Dr. John Rink provides dental services to patients from Charleston, Hilton Head, Myrtle Beach, and all across South Carolina. Dr. Rink considers your safety, comfort and satisfaction his top priority. Your blood pressure is one small but important aspect of the meticulous care he puts into every patient's experience, health and wellbeing. To make your visit a positive and comfortable experience, he offers the very latest in patient amenities, state-of-the-art technologies, and oral sedation "sleep" dentistry at our Charleston practice. Come experience Dr. Rink's personalized care and excellence for yourself!