Treating Different Types of Tooth Discoloration
By John Rink DDS on September 12, 2014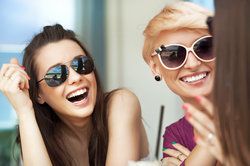 Not all dental stains are created equal. Some stains penetrate deep within the teeth while others are only surface stains. Successful treatment of tooth discoloration begins with understanding the type of staining. Fortunately, professional teeth whitening treatments are effective at lifting most dental stains. Charleston dentist John F. Rink offers a variety of whitening options to restore the brilliance of your smile. Read on to learn more about the different types of tooth discoloration and whitening treatments.
Different Types of Tooth Discoloration
Tooth discoloration is a normal part of aging, commonly occurring as a result of the teeth being exposed to foods and drinks over a lifetime. Certain foods, drinks, and habits (such as smoking or not practicing proper oral hygiene) can cause the teeth to become deeply stained or prematurely discolored. Tooth discoloration is nearly inescapable, however, it is treatable. Effectively treating dental discoloration begins with understanding the type of stain affecting the teeth. The different types of dental discoloration include:
Extrinsic Stains: Simply put, extrinsic stains are surface stains. Extrinsic stains are characterized by an overall discoloration of the teeth but may be most notably discolored at the gum line. Food and drinks, like red wine and coffee, can increase the likelihood of the development of extrinsic stains, as does cigarette smoking.
Intrinsic Stains: Intrinsic stains are deep stains. With intrinsic stains, discoloration has penetrated to the inner dentin layer of the teeth. Intrinsic stains often lead to discolored spots within an individual tooth, rather than an overall discoloration. This type of staining can be caused by trauma, enamel erosion, disease, or medication; it is also more difficult to treat.
Treating Dental Discoloration
There are many different treatment options available for restoring the brightness of even the most discolored teeth. Extrinsic stains generally respond well to teeth whitening treatments. Professional teeth whitening treatments, whether performed in-office or in-home, are usually very successful at lifting years of discoloration. For those with severe extrinsic discoloration, dental bonding or porcelain veneers may be a better treatment option.
Intrinsic stains don't always respond well to teeth whitening treatments due to the deepness of the discoloration. Sometimes, teeth whitening treatments can actually cause intrinsic stains to be more noticeable. Dental bonding and porcelain veneers are typically a better option for restoring the brightness of intrinsically stained teeth. You can help reduce your risk of dental discoloration by practicing the following tips:
Avoid certain foods and drinks: Some foods and drinks are more likely to cause dental staining and discoloration than others. Regular consumption of red wine, coffee, black teas, and soft drinks all can stain the teeth. Deeply colored foods like beets and blackberries can also cause staining if eaten frequently and without proper aftercare.
Use a straw: Drinking beverages with a straw helps reduce contact with the teeth, so not only is it good for lowering the risk of discoloration, it helps reduce the risk of tooth decay.
Rinse with water between brushing: Rinsing the mouth with water after eating or drinking can help reduce the risk of staining.
Practice proper oral hygiene: Practicing proper oral hygiene, including brushing twice a day, flossing once a day, and seeing your dentist for regular check-ups, is vital to keeping the teeth white and also healthy.
Don't use tobacco: The chemicals in tobacco cause the teeth to turn yellow or even brown. Avoid using tobacco in any form to help prevent dental discoloration.
Schedule an Appointment
A bright, white smile can help restore confidence and rejuvenate your appearance. To find out which treatment is right for you, schedule an appointment with Dr. Rink today.