Restore Missing Teeth with Partial and Removable Dentures
Restore Missing Teeth with Partial and Removable Dentures
By John Rink DDS on March 13, 2013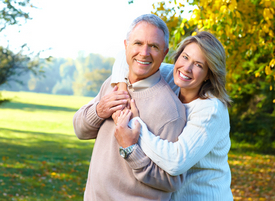 If you are missing multiple teeth, you may benefit from partial or removable dentures. Partial dentures are intended for people who are not missing enough teeth to require a full set of dentures, but rather are missing multiple teeth in a general area. If you are missing all of your bottom or top teeth, removable dentures may be the right choice for you. Removable dentures can be made for just the bottom teeth, just the top teeth, or both sets for full tooth replacement. We welcome you to schedule a consultation at our Charleston cosmetic dentistry practice to see which treatment is right for you.
Partial Dentures
Partial dentures are type of dental restoration used to replace missing teeth. Partial dentures are used when some of the patients natural teeth remain in the mouth. If all of the bottom or upper teeth are missing, full dentures would be used instead. Partial dentures typically consist of artificial teeth attached to an acrylic base, which is then attached to a metal framework to secure the dentures within the mouth. The acrylic base is made in a realistic looking shade of pink to look like the gums and, therefore, be less noticeable. In order to be a candidate for partial dentures, at least one or more of the natural teeth must still be in place. At least one tooth is needed because the metal framework used to fasten the partial denture must have a tooth to attach to it in order to become anchored within the mouth.
Removable Dentures
People lose their teeth for a number of reasons. Whether your tooth loss is from decay or injury, removable dentures may be able to help you. Removable dentures are used to replace missing teeth. For those missing all of their teeth, both full upper and lower dentures can be crafted. Removable dentures consist of an acrylic base, modeled to look like the gums, to which artificial teeth are attached. Removable dentures are custom-made from impressions taken of the gums for a comfortable, secure fit. Removable dentures can improve your quality of life by allowing you to smile with confidence and improve chewing ability.
Alternative Options for Tooth Replacement
There are more permanent options for tooth replacement. Dental implants are surgically placed titanium posts that can be attached to dental crowns, bridges, or implant-supported dentures. Once the dental implant is placed within the jaw, the bone heals around the implant and creates a secure bond. A dental crown can be secured to the implant to replace individual teeth. Dental implants can also be paired with dental bridges to replace multiple teeth. For replacing a full set of teeth, dental implants can be used to anchor implant-supported dentures.
Schedule a Consultation Today!
Replacing your missing teeth will not only improve dental function, it will also improve your confidence. Don't let the appearance of your teeth and smile make you feel embarrassed. For our patients in Charleston, restorative dentistry options can improve the health and function of the mouth. Schedule a consultation with Dr. John Rink today for your personalized treatment plan.