Popular Dental Treatments for Teens
By John Rink DDS on September 20, 2013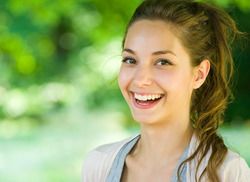 Teenagers have enough pressure weighing on them these days; with their schoolwork and social lives, that the last thing they should have to worry about is how their teeth look. Teenaged patients who are unhappy with the appearance of their smiles can undergo different smile makeover procedures that are now available to teens. From restorative to cosmetic dentistry, our Charleston cosmetic dentist can discuss with you the array of state-of-the-art procedures that exist for your teen's custom made smile makeover.
Orthodontic Treatment
Many teens have crooked, gapped, and otherwise misaligned teeth. This poses not only a cosmetic problem, but can also result in a number of functional issues. Many patients undergo orthodontic treatment with braces or Invisalign® during their teenage years. At Dr. John Rink's practice, we can refer patients to a skilled orthodontist so the teeth can be moved into alignment. We will also advise patients on how to care for their teeth and gums while they are undergoing orthodontic treatment.
Composite Fillings
Unfortunately, teenagers don't always brush and floss the teeth regularly. When your teen gets a cavity, treatment doesn't have to involve the use of unsightly silver amalgam fillings. Nowadays, tooth fillings are made of a composite resin, a durable material that blends perfectly with your natural teeth. The bond is not only lasting, but it can also prevent further decay of the natural tooth.
TMJ Treatment
Teens can sometimes grind their teeth - this often occurs while they are sleeping at night and are unaware that they are even doing it. Chronic teeth grinding can lead to TMJ disorder, which can cause pain in the jaw and neck, as well as headaches. Several non-surgical treatment options exist for this disorder. Teens can be fitted with a removable bite appliance that can prevent them from grinding their teeth at night and help reduce the effects of TMJ.
Ultra-thin and Prep-less Veneers
Chipped, stained, and misaligned teeth can also be common in teens. Porcelain veneers can change the color and shape of a tooth, helping to cover stains and close gaps. Now, porcelain veneers come virtually hassle free thanks new ultra-thin and virtually prep-less veneers that can be accomplished in one comfortable office visit with no drilling or anesthetic. These porcelain veneers are about half the thickness of traditional veneers and are a great option for teens with sensitive teeth.
Take-Home Teeth Whitening
Teens can now get a brighter and whiter smile in time for the big dance within the comfort and privacy of home. One of the most popular cosmetic dentistry procedures, a cosmetic dentist will discuss with you the various whitening options, shades, and techniques that are best suited to your teen.
Learn More about Popular Dental Treatment for Teens
Smiles are important for adults; they are perhaps even more important for teenagers who are longing to grow into self-confident young adults. Learn more about how you can keep your teen smiling big and bright by scheduling a consultation with the capable staff at the Charleston Center for Cosmetics and Restorative Dentistry today.