By John Rink DDS on November 13, 2013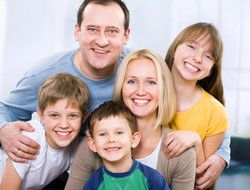 Every member of your family has different dental needs - from fillings for your kids to veneers or implants for you or your parents. As your oral health partner, we offer a full range of general dentistry treatments as well as advanced cosmetic and restorative dentistry. With a gentle, comprehensive approach, we can provide all your family dentistry needs at our convenient, comfortable Charleston office.
Dental Care for Children
Children can be afraid to see the dentist, but with our gentle, non-invasive techniques, your child will be in good hands. We know how to address young patients in a way they can understand, and our digital X-rays keep them interested and involved in the process. Whether your son or daughter needs a simple routine cleaning or needs treatment for a chipped tooth, our friendly staff will ensure your child receives high-quality care in a calm, welcoming environment.
Dental Care for Teens
As kids enter their teenage years, they can become embarrassed by minor dental problems, such as stains, chips, and gaps. We help teenagers achieve healthy-looking smiles using the latest dental technology and techniques. Our teen patients appreciate discreet treatments like Invisalign, dental bonding, and tooth-colored fillings. These treatments not only help create a more attractive smile, they restore strength to damaged teeth and address fundamental bite issues that help keep a teen's mouth in good health for years to come.
Dental Care for Adults
Taking care of your teeth in your 30s, 40s, and 50s helps ensure you keep your natural teeth later in life. With regular visits to our office, we can help you prevent decay, gum disease, and more serious health problems. As a general and cosmetic dentist, Dr. Rink can provide treatments that keep your teeth healthy and looking great. Plus, patients considering porcelain veneers, teeth whitening, or other cosmetic treatments can get a preview of what they would look like using our digital computer imaging.
Many adults appreciate our same-day dental crowns and porcelain veneers with CEREC AC technology. That means we can complete a porcelain dental restoration - start to finish - in just a single appointment! We also now offer several treatment options to correct TMJ related disorders, including several non-surgical treatments. For those who are anxious or fearful of seeing a dentist, we offer a few types of sedation dentistry to help you feel calm and relaxed during your treatment.
Dental Care for Seniors
Many people suffer more serious dental problems as they age, such as tooth pain, tooth loss, and worn teeth. To help keep our older patients in good health, we offer several restorative treatments, including dental bridges, crowns, and implants. These treatments restore form and function, allowing patients to eat and speak more clearly and also feel better about their overall appearance.
Learn More about Our Family Dentistry Services
If you are interested in learning more about any of our cosmetic, restorative, or general dental services, we invite you to schedule a consultation. Dr. Rink and his team are committed to helping patients achieve optimal oral health and beautiful esthetic results.