Ideal Candidates for Porcelain Veneers
Ideal Candidates for Porcelain Veneers
By John Rink DDS on June 15, 2014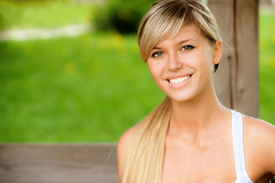 When your smile is flawed, it can leave you feeling self-conscious even around people that you have known for years. That's why it's important to consider all of your options for cosmetic dentistry treatment. Cosmetic dentistry treatments are designed to enhance the beauty of your smile, removing stains and fixing chips so that you are able to smile with total confidence around loved ones as well as strangers.
Right now, we want to focus on porcelain veneers, one of the most popular options for aesthetic enhancement available today. We'll cover some of the basics and then examine who may benefit most from having them placed.
About Porcelain Veneers
Porcelain veneers are a versatile cosmetic dentistry solution for a variety of aesthetic flaws. They are thin shells of dental ceramic that are affixed to the front portions of a patient's teeth, used to mask a number of different dental imperfections from view.
The best part about porcelain veneers is that they blend in seamlessly with your natural tooth structure. You see, porcelain veneers are semi-translucent, which means that light passes through them much like they do your natural tooth structure. Whether you are under natural light or artificial light, no one will be able to tell that you have porcelain veneers in place.
General Candidates for Porcelain Veneers
Ideal candidates for porcelain veneers are people who suffer from aesthetic flaws that affect the appearance of their smiles. Major health or structural issues with the teeth will be best addressed through the use of restorative treatments rather than the use of porcelain veneers.
Patients should also have realistic expectations about the results that can be achieved through the use of porcelain veneers; they should also be committed to proper dental hygiene as this will extend the life of their porcelain veneers.
Porcelain Veneers Are Ideal for Chips and Cracks
If a patient has a chip or crack on their tooth that is purely aesthetic in nature, a porcelain veneer would be an ideal option for optimal care. The flaw in the tooth will be rendered totally invisible.
Porcelain Veneers Are Ideal for Tooth Discoloration
While teeth whitening treatments are a good option to consider for dental stains and general discoloration of a person's smile, porcelain veneers are a good option to keep in mind when the stains are too serious for traditional teeth whitening.
Porcelain Veneers Are Ideal for Minor Spacing Issues
Minor gaps between teeth can actually have a major impact on the overall aesthetics of the smile. In these cases, an ideal option to consider for care is a porcelain veneer. Porcelain veneers are actually great to consider for various cosmetic alignment issues, allowing patients to have perfect, flawless smiles without the need for orthodontic care. This is one of the reasons why porcelain veneers have been nicknamed "instant orthodontics" by patients and dental health professionals alike.
A Full Smile Makeover Is Possible with Porcelain Veneers
Given the versatility of porcelain veneers and all of the other things that they can accomplish, it should come as no surprise that a full smile makeover can be achieved simply through the use of porcelain veneers. During your consultation with our team, we will determine if porcelain veneers are right for all of your needs.
Learn More About Smile Makeover Options
If you would like to learn more about porcelain veneers and how they can be of great benefit to you and all of your needs, be sure to contact our Charleston cosmetic and restorative dentistry practice today. Dr. John Rink and his entire team look forward to meeting you in person and helping you achieve the very best results in dental health and wellness.