Dental Crowns vs. Fillings
By John Rink DDS on January 31, 2012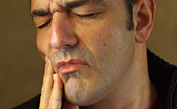 When you have a dental problem, you can always rely on a skilled Charleston cosmetic dentist to help address it. This goes for problems related to all structures of your mouth, whether they be the teeth themselves, the gums, or the jaw. In many cases, you will often face problems related to tooth decay. There are plenty of options out there to address tooth decay, whether it's a cavity or major decay. Let's look at your dental restoration options and what they can do for you.
Dental Restorations
Dental restoration is a broad term used to describe the various kinds of options available to restore the structure and appearance of the teeth. Generally speaking, the least invasive dental restoration for tooth decay is the traditional dental filling. For major tooth decay and damage, dental crowns are the best possible option.
The team at our cosmetic dentistry practice in Charleston would like to look at dental crowns and dental fillings so you understand the various ends of the spectrum.
Dental Fillings
Dental fillings are used to fill cavities (aka dental caries). Many people get fillings at some point during their lives. The procedure for getting a filling involves the preparation of the tooth. This will entail drilling the cavity in order to remove damaged or decayed tooth material. Once that is done, the filling is set in place.
While metal fillings were the norm in the past, white fillings are more common today. Not only do they provide better smile makeover results, they are actually better in terms of dental health. Less tooth structure needs to be removed to place a composite filling, and composite fillings do not contain mercury like some metal fillings do.
Dental Crowns
For major tooth decay and tooth damage, the best option is to get dental crowns. A dental crown is a cap that fits right over the affected tooth. Once the compromised tooth structure has been removed, an impression is made of the tooth. When fashioned, the dental crown is then set on the prepped tooth. This will protect the tooth from further damage, provide an aesthetically pleasing appearance, and eliminate any pain or discomfort associated with tooth sensitivity.
Dental crowns can actually be used to cap Charleston dental implants as well. Dental implants are artificial tooth roots that are surgically anchored into the jawbone and soft tissue. They are an ideal option if you are missing a tooth or multiple teeth.
Should I get dental fillings or dental crowns?
For minor tooth decay, dental fillings are more ideal; for major tooth decay, dental crowns are more ideal. There is also an intermediate option to consider: inlays and onlays. These are like larger dental fillings designed to restore more of a tooth's structure, such as the cusps. The best option will depend on your needs, but ideally we want to make the most conservative restoration possible.
Schedule a Consultation for Cosmetic and Restorative Dentistry
If you would like to learn more about your many options for dental restoration, be sure to contact our Charleston cosmetic dentistry practice today. Our entire team looks forward to your visit.