The Benefits of Porcelain Dental Crowns
By John Rink DDS on January 22, 2014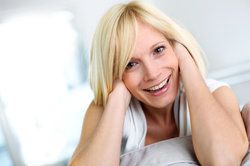 So much of effective dental care is about the balance between aesthetics and function. If a dentist can find the right balance between these two impulses, incredible health and cosmetic results are possible. Thanks to new advances in restorative and cosmetic dentistry, modern dentists often do not have to sacrifice one for the other. This is certainly the case with porcelain dental crowns, which blend aesthetics and functionality quite well.
The team at our Charlestonpractice would like to take a few moments right now to consider the basics of porcelain crowns and how they can be of great benefit to you and your dental health goals.
About Dental Crowns
We should discuss basic dental crowns first and then address porcelain crowns. This will help you understand why these porcelain restorations are so great.
Traditional dental crowns are made of metal alloys. They are caps that are designed to go over a tooth that has been seriously decayed or damaged, so much so that dental fillings, inlays, and onlays are no longer good options for treatment. With the dental crown in place, patients will no longer experience soreness of the tooth related to damage or decay and be able to chew as they normally would.
What Makes Porcelain Dental Crowns Different?
Rather than being made of metal, porcelain crowns are made entirely of ceramic porcelain. This means that the dental crowns are tooth colored rather than metallic, allowing them to blend in with the natural teeth in your smile. Here is the proper mix of aesthetics and functionality that only relatively recent advances in dentistry could provide.
Ideal Candidates for Porcelain Dental Crowns
The best candidates for porcelain crowns are patients in need of serious restorative dentistry treatments to address tooth damage or tooth decay. In most cases, the porcelain crowns are ideal for the front teeth given their aesthetically appealing appearance.
Porcelain Crowns Are Aesthetically Appealing
One of the primary benefits of porcelain dental crowns is that they look just like natural teeth. Even when light hits the porcelain crowns, they look semi-translucent and hence totally natural.
Porcelain Crowns Are Durable
Porcelain crowns are also rather durable, able to restore function to a patient's smile. With porcelain crowns, biting and chewing foods as you normally would is possible. With proper care, the porcelain crowns can last for a very long time.
Considering Your Alternatives to Porcelain Crowns
While the cosmetic and functional benefits of porcelain crowns are well noted above, we do acknowledge that porcelain crowns are not ideal for all restorative dentistry needs. In such cases, the use of metal dental crowns or porcelain-fused-to-metal dental crowns may be more ideal.
During a consultation with your dentist, you will be able to go over all of these matters regarding dental crowns in much greater detail. During this careful examination and assessment of your teeth, the best possible dental crown choice will be made.
Learn More about Dental Crowns Treatment
If you would like more information about porcelain dental crowns and the many other options out there for advanced restorative care, be sure to contact our cosmetic dentistry center today. Our entire team looks forward to meeting you in person and helping you achieve the very best in terms of overall dental wellness.