Is a Dental Bridge Right for You?
By John Rink DDS on February 18, 2014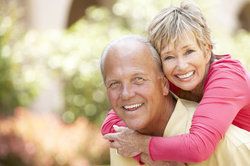 Everyone wants a smile they can feel confident about. That's why, when people experience missing teeth, they take advantage of cosmetic dentistry solutions such as dental bridges. Left untreated, the gaps created by missing teeth can cause remaining teeth to shift, leading to additional dental problems. By replacing missing teeth, a bridge can help restore your smile, along with your ability to speak and chew comfortably. Here, Dr. John Rink helps patients at his Charleston practice understand the qualifications of good dental bridge candidates.
What Are Dental Bridges?
Dental bridges are solutions for individuals who have one or more missing teeth. A bridge uses crowns placed over the existing, healthy teeth on either side of the gaps as anchors to support the new, artificial teeth. These new teeth, known as "pontics," can be made from porcelain, gold, or alloy.
Are You a Good Candidate?
Generally, any adult with missing teeth is a good candidate for dental bridges. However, here are some additional qualities that your dentist may look for.
Your remaining teeth are strong and healthy enough to support a bridge. Because a bridge uses the remaining teeth on either side of a gap as anchors, it's important that these teeth are in good health. If you do not have existing healthy teeth, dental implants may be necessary prior to your dental bridge.
You don't need any major dental work in the near future. Because the success of your dental bridge partially depends on the health of your existing teeth, you should take care of any major dental work - such as fillings or root canals - first.
You're looking for a long-term solution. Unlike dentures, dental bridges are not removable. Bridges are considered "semi-permanent" solutions, meaning it requires a visit to the dentist to have them removed.
The good news is that even if you are not immediately considered a good candidate for a dental bridge, preliminary restorative dentistry care can often help.
What Does the Procedure Involve?
A dental bridge is created in stages, over the course of several appointments with your dentist. Generally, the process works like this:
Any necessary adjustments will be made to your existing teeth, in order to fit them for dental crowns.
Your dentist will make a mold of your teeth, which will be sent to a laboratory to construct your dental bridge.
The color and texture of the artificial teeth will be matched to your existing teeth, to ensure that your smile appears as natural as possible.
The dental bridge is placed in your mouth by permanently bonding the dental crowns to the anchor teeth.
The entire process, from initial consultation to final bridge placement, may take several weeks. Once complete, though, your restored smile will last for years - perhaps even a lifetime.
Learn Whether a Dental Bridge is Right for You
The best way to determine whether a dental bridge is right for you is to schedule a personal consultation with a skilled cosmetic dentist. Contact Dr. John Rink today to learn more.