The Stages of Gum Disease: Your Periodontal Health
Stages of Gum Disease - Charleston, SC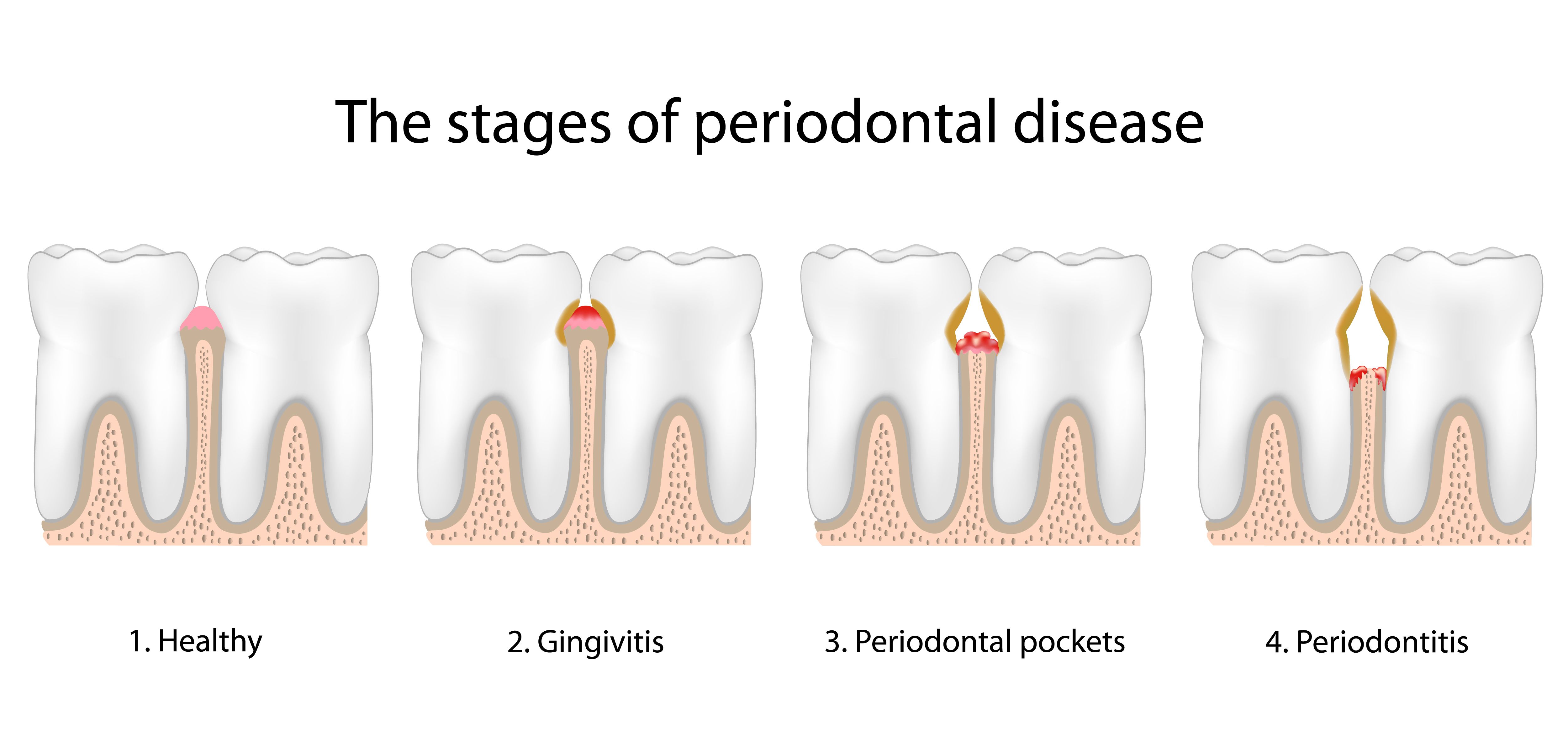 Gum disease is a bacterial infection of the gum tissue. It's caused by the same naturally occurring oral bacteria that causes bad breath and tooth decay. Bad oral hygiene, smoking, dry mouth, and a host of other conditions can increase your likelihood of developing gum disease. At the Charleston Center for Cosmetic and Restorative Dentistry, we offer many advanced options for periodontal care and improving gum health.
There are three stages of gum disease:
Gingivitis
Periodontitis
Advanced periodontitis
Below we'll go into each stage of gum disease and what signs and symptoms are associated with them.
Gingivitis
The most common signs and symptoms of gingivitis set the basics for worsening gum disease. They include:
Chronic bad bad
A strange taste in the mouth
Irritated gums
Gum discoloration
Bleeding gums
This early stage of gum disease is the easiest to treat and, relatively speaking, does the least damage to the gumline and other structures of the mouth. Regular dental visits can help catch these symptoms, allowing dentists to implement treatment sooner rather than later.
Periodontitis
The next stage of gum disease leads to more serious health issues affecting a patients gums and teeth. The symptoms include:
Worsening of gingivitis symptoms
Swelling of the gums
Sore or painful gums
Gum recession
Exposure of the tooth roots
Tooth sensitivity
Tooth decay at the root
Loose teeth
Given the nature of these symptoms listed, more advanced restorative procedures will be necessary to treat cases of periodontitis as they arise.
Advanced Periodontitis
Advanced periodontitis is the most serious form of gum disease. The entire mouth can be impacted given the spread and severity of infection. Symptoms include:
Worsening of periodontitis symptoms
Shifting of tooth position
Tooth loss
Root canal infections
Formation of oral abscesses
Depending on the extent of the damage, a full mouth reconstruction may be necessary to address the damage caused by this severe stage of gum disease.
Treatments for Gum Disease
When treating gum disease, it's important that the infection be brought under control first and foremost. This means that the initial treatments may involve the use of antiseptic rinses and medications to help kill the harmful bacteria. Antibiotics may be prescribed for much more serious infections.
The next step of treating gum disease involves restorative care. This means grafting procedures to rebuild the gumline if a patient suffered from gum recession, and the use of restorations to treat damaged or missing teeth.
Since treatments can vary depending on the nature of the problem, it's best that we discuss these issues during a consultation at our practice. Together we can develop a treatment plan that's well-suited to your needs.
Tips for Preventing Gum Disease
Here are some simple tips to help you prevent gum disease:
Brush your teeth at least twice a day (ideally after every meal)
Floss your teeth at least once a night (ideally after every meal)
Avoid smoking and the use of tobacco products
Stay hydrated by drinking water throughout the day
Visit your dentist twice a year for regular cleanings and checkups
Learn More About Treating Periodontal Disease
For more information about gum disease and how it can be effectively treated and prevented, be sure to contact the Charleston Center for Cosmetic and Restorative Dentistry. We will help you have a healthy smile that looks great, and give you the information you need to practice good oral hygiene.